The Blue Vipers of Brooklyn
The Blue Vipers of Brooklyn are an acoustic Dixieland, early swing, gospel and blues band, composed of resonator guitar/vocals, trumpet, homemade washboard percussion, upright bass, with the occasional addition of violin/fiddle & tenor saxophone.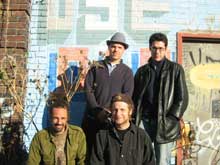 Their repertoire of witty songs with moving yet often bawdy lyrics and catchy 4 part vocal harmony always draw large crowds.
The Blue Vipers of Brooklyn recently won a nationally televised contest called "Subway Idol," which was a month long feature on FOX's "The Morning Show with Mike and Juliet" where they had the privilege of performing live on four separate occasions. As the winners the band will be recording their next album at Quad studios in conjunction with the legendary Hit Factory recording studios in New York City.
Some of their more notable performances include The 2006 "Lincoln Center Out Of Doors Roots of American Music Festival," The 2006 "Peace Boat Music Festival" at the United Nations in New York City, winning a Battle of The Bands competition hosted by goswingdancing.com against Joe Battaglia & The New York Big Band in May 2007 and a huge swing party at SOL in New York City hosted by Swing Remix in June 2007.
The Blue Vipers are Billy Nemec-guitar/vocals, Chris Pistorino-upright bass, David Langlois-washboard percussion, Sam Hoyt-trumpet.
Website: Thebluevipersofbrooklyn.com
Upcoming / Recent Appearances
09/20/2011 -- Tuesday Night Swing with The Blue Vipers
11/27/2010 -- Blue Vipers & Intermediate Lesson by Tony Fraser at the Brush Barn
09/22/2009 -- Blue Vipers of Brooklyn at Pomo's
03/24/2009 -- Blue Vipers of Brooklyn at Pomodorino
06/17/2008 -- Blue Vipers of Brooklyn return to SDLI