SDLI Embroidered Apparel
Stand out in a crowd! Let the world know you love to Swing Dance! Meet more dance friends!
All embroidered products will be available from Lands End. We are offering the following design, which is able to be embroidered on a wide variety of Lands End's products, including fleece jackets, blouses, fine knit sweaters, lab coats, oxford shirts and "dance shoe" bags. Just about anything in their "business outfitters" catalog.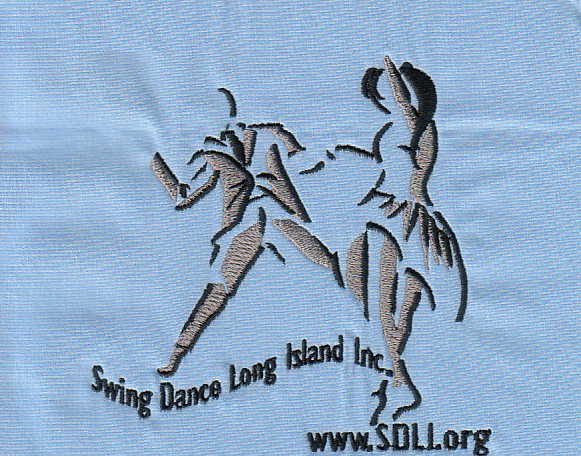 The website is now available for ordering. Please MANUALLY type in the following URL, eliminating the spaces separating the characters. The embroidered design is about 4 inches by 4 inches. After you choose your item, you will be prompted for which logo to apply. Please select "SDLI 1" and the location that you want it applied to. If you do not select a logo, you will not get your item embroidered. Please note that the items are a little pricey when your include the price of the item, plus the embroidery charge of $8.10, shipping ~$11 and NY tax.
ces.landsend.com/sdli
Important - please note that if you are ordering black or dark garments from Lands End, you must specify in the comment field "Change black thread to white". Otherwise, the graphics will be very hard to see.
If you wish to "hide" the website address, you can request in the comment field "Please make website address text the same color as the fabric." Then the text will blend into the garment.