Islip Arts Council (IslipArtsCouncil)
The Islip Arts Council provides diverse audiences with activities which encompass both Presentation and Service to the Arts field. Its presentations cover a variety of disciplines ranging from fine classical music to Master Classes with renowned musicians, for little or no cost.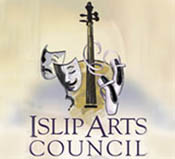 This summer they have an expansive calendar of events, including: Free Concerts, Especially for Children, Music, Theater, Dance, Exhibits, Film, Workshops, Lectures and Classes. Not to be missed is New York Philharmonic Free Concert at Heckscher State Park.
The free concerts include some great bands for swing dancing. Check their complete calendar.
Islip Arts Council
50 Irish Lane
East Islip, NY 11730
Website: http://www.islipartscouncil.org
Telephone: 631-224-5420
Fax: 631-224-5440
Email:
Upcoming / Recent Events
08/18/2011 -- Gail Storm @ Brookwood Hall
08/12/2011 -- Swingtime Big Band @ Bay Shore Marina
07/08/2011 -- Most Dangerous Big Band plays for the Islip Arts Council
09/01/2010 -- NY's Most Dangerous Big Band in Sayville - FREE
08/22/2010 -- Gail Storm in Great River - FREE
08/01/2010 -- Swingtime Big Band in Great River - FREE
07/05/2009 -- Swingtime Big Band @ Bayard Cutting Arbotetum (Oakdale)
06/27/2009 -- NY's Most Dangerous @ Sayville
09/21/2008 -- Swingtime Big Band - Sayville Common Ground – Gillette Park
08/31/2008 -- Lil' Cliff & the Cliffhangers