Due to the snow transitioning to rain later tonight we've decided to cancel the dance. Please stay home, safe, warm and dry.
For anyone wanting to get tickets for New Years Eve, please send an email to and we'll discuss the best way to get you tickets.
Stealing from Hill Street Blues, "Hey, let's be careful out there"
John

<!related entries>
<! end of related entries>
Tommy James and the Black Tie Affair Orchestra are back to bring music to their music to our dance floor.
A beginner East Coast lesson will be given at 7:30PM to get you on the floor. A few ballroom dances will be in the mix as well.
The recently renovated Moose Lodge has a fabulous, HUGE 1000 square foot dance floor, freshly painted walls, new ceiling, new lighting & plenty of tables to relax and chat.
No partner is needed and beginners are always welcome.
<!related entries> Sponsoring Organization:
Swing Dance Long Island, Inc.
Band/Performer:
Tommy James & His Allstars
Location & directions:
Huntington Moose Lodge
Admission: $15 General Admission, $13 Students with current ID, $10 SDLI Members
<! end of related entries>
No SDLI dance on Christmas Eve
<!related entries>
<! end of related entries>
Well New Years Eve happens to fall on a Tuesday. Sounds like a good time for a dance party. DJ Music. Hot food will be served. Tickets sold in advance only.
<!related entries> Sponsoring Organization:
This is not a Swing Dance Long Island Event
Band/Performer:
DJ Music
Location & directions:
Huntington Moose Lodge
<! end of related entries>
Stand out in a crowd! Let the world know you love to Swing Dance! Meet more dance friends!
Swing Dance Long Island's long & short sleeve tee shirts, sweatshirts, tank tops, fitted camisoles and baseball jerseys are now available for purchase on the web. You can custom design the exact size, style, design graphic and color that looks best on you.
The graphic designs have been created exclusively for Swing Dance Long Island by our very own members. Many thanks to our artists! The following design are available: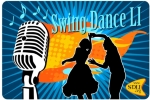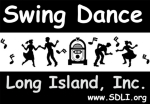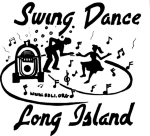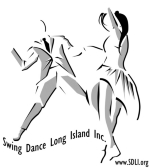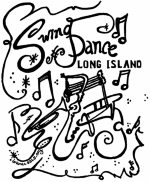 To give our members a wide variety of clothing styles, we have selected two companies to provide SDLI apparel.
Printfection.com will be providing all of our high quality digital printing. They offer: a secure website, a 30-day/100% satisfaction guarantee (which is rare to find in a custom printed product), 98% of orders are shipped within three business days, 10% discount if you order two or more products, and a toll free number 866.459.7990 for customer service. You must manually type in the following URL to access the SDLI Store, please exclude the spaces between the characters:

p r i n t f e c t i o n . c o m / s d l i
On Selection ... Different garment style have different color and sizing options. For example the sweatshirts have only 3 color options, but the standard tee shirts have more then 30.
On Dark Colors ... Certain graphics are only available on Black or Dark colors.
On Front / Back ... All garments have graphics on the front. Before ordering, check the front and back of the design. Only some of the "Sock Hop" graphics have a smaller graphic on the back.
On Sizes ... A few of the women's garments as described as "fitted". On the printfection.com website this is described as "Sporty yet sexy with a form-fitting, contoured cut that flatters a woman's curves. Very Fitted. Size up for a semi-fitted look." Most women will want to up-size at least one size and you will still maintain that "Fitted" look.
Discount Code ... Before printfection.com checkout, try typing in the "grandopening5" coupon code. You must visit "shopping cart" to enter the code before clicking "check out", where it prompts you for your address. Some people have been rewarded with $5 off their $20 or more order. Let me know if it works for you.
Holiday 2007 Cut-off ... Note that you must order by Dec 9th to still use the Super saver shipping option and have a chance of get it by Dec 24th. Other shipping options are available, however.
SDLI has purchased some T-shirts which we will bring along to the next few dances. Feel free to try on the samples, so you have a good idea of the sizes before ordering.
Note that printfection.com offers a secure website, but you will need to place an order by credit card. If you do not have a credit card, there will likely be other members ordering a T-shirts for themselves or as holiday gifts during the next few weeks. You might be join up with another member, this way you can obtain quantity pricing and split the shipping costs.
All embroidered products will be available from Lands End. We are offering the following design, which is able to be embroidered on a wide variety of Lands End's products, including fleece jackets, blouses, fine knit sweaters, lab coats, oxford shirts and "dance shoe" bags. Just about anything in their "business outfitters" catalog.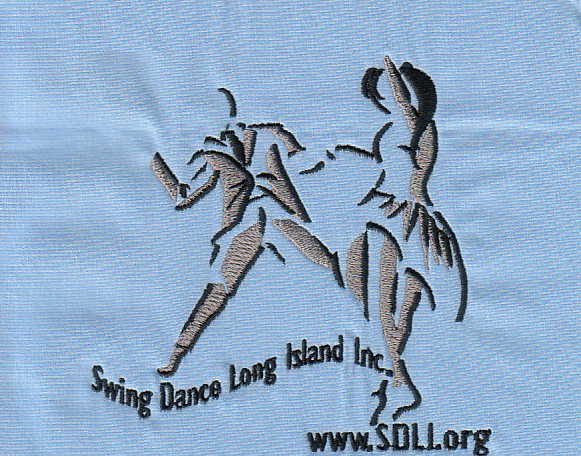 The website is now available for ordering. Please MANUALLY type in the following URL, eliminating the spaces separating the characters. The embroidered design is about 4 inches by 4 inches. After you choose your item, you will be prompted for which logo to apply. Please select "SDLI 1" and the location that you want it applied to. If you do not select a logo, you will not get your item embroidered. Please note that the items are a little pricey when your include the price of the item, plus the embroidery charge of $8.10, shipping ~$11 and NY tax.
c e s . l a n d s e n d . c o m / s d l i
Important - please note that if you are ordering black or dark garments from Lands End, you must specify in the comment field "Change black thread to white". Otherwise, the graphics will be very hard to see.
If you wish to "hide" the website address, you can request in the comment field "Please make website address text the same color as the fabric." Then the text will blend into the garment.

NOTE: 25% Off All Lands End Orders. Use Code EMSAVE25. Ends Dec. 9, 2011

<!related entries> Sponsoring Organization:

Swing Dance Long Island, Inc.

<! end of related entries>

<! primaryContent >

<! primaryContentContainer>