Friday, Jul 2, 2010 • Swing Time Big Band at Eisenhower Park - FREE* •
We are delighted to return to beautiful East Meadow, NY, Friday night, July 2 (7:30pm), to perform again at Eisenhower Park's Harry Chapin Lakeside Theatre, in a musical celebration of America. And what better way to salute our nation's birth than with this classic swing music, which is uniquely American--created here, perfected here and recognized around the world as one of the USA's most significant cultural achievements!
We are proud to present our full-length program for this summer called Themes Like Old Times, featuring classic theme songs from the greatest Swing Era bands, including Benny Goodman, Count Basie, Tommy Dorsey, Duke Ellington, Charlie Barnet and Les Brown, plus a special 100th Birthday tribute to the legendary Artie Shaw, featuring some of the greatest hits and hidden gems from the master clarinetist's library, such as Begin the Beguine, Moonglow, and Stardust.

In addition, our two wonderful vocalists, Bobbie Ruth & Jerry Costanzo, sing the Great American Songbook and pay homage to some of our finest singers, including Peggy Lee, Lena Horne, Sarah Vaughan, Liza Minelli, Matt Munro, Nat "King" Cole, Bobby Darin and the immortal Frank Sinatra!

This link takes you to the Eisenhower Park website, which has driving directions (bottom of that page): . * While this is indeed a free concert, there is a $5 parking fee for non-Nassau residents , so you will need to be prepared to show ID when you enter the park. There is plenty of room on the grounds for you to bring blankets, chairs and a picnic supper, so please come early and we will perform starting at 7:30pm.
<!related entries>
Band: Swingtime Big Band
Swing Time Big Band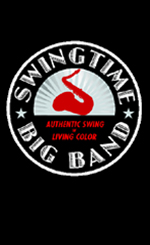 Dedicated to the performance of America's greatest popular standards, SWINGTIME BIG BAND is a 20-piece authentic swing band comprised of master interpreters of music from the Swing Era (mid-1930's through early 1950's). The ensemble specializes in performing original arrangements of Big Band classics from the Great American Songbook, bringing to life both the style and the spirit of this music for 21st century audiences to experience in living color.
SWINGTIME thrills concert audiences and Ballroom dancers alike with authentic recreations of the timeless swing music of such great Big Band leaders as Count Basie, Artie Shaw, Glenn Miller, Benny Goodman, Tommy Dorsey, Duke Ellington, Harry James, Woody Herman, Les Brown, Charlie Barnet and Stan Kenton, among many others.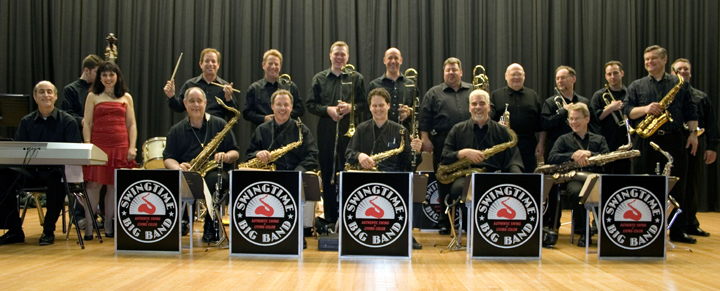 With the recent renaissance in popularity of both swing music and ballroom dancing, this versatile ensemble has been enjoying remarkable success playing both the swing music that is its calling card, as well as a wide variety of tunes to accommodate the many varied styles requested by ballroom dancersThe Lindy, Fox Trot, Peabody, Cha-Cha, Tango, Merengue, Rhumba and Mambo, among others. Highlights of the many prestigious venues at which SWINGTIME members have performed include: Lincoln Center's Midsummer Night Swing, Carnegie Hall, Radio City Music Hall, the Plaza Hotel, the Waldorf Astoria, Tavern on the Green and the Rainbow Room.
Steven Shaiman, Artistic Director
Phone: 516-876-8324
Email:
Website: http://swingtimeny.com
Pricing: Free
<! end of related entries>