Sunday, Aug 5, 2007 • Frankie Manning Night • NYSDS
Book Signing: : From 8-9 pm Frankie Manning and Cynthia Millman will be signing books, which will be available for purchase
Video: Margaret Batiuchok will also have her Frankie Manning Lindy Video, now on DVD, available for purchase - plus her thesis, "The Lindy: Steps in TIme". More info at: http://www.dancemb.com.
Dance to Live Big Band Music
Location: St Cyril & St Methodius Croatian Church
502 West 41st Street just west of 10th Avenue
Seniors and Students : $11
General Admission : $15
Dance classes are held from 7-8 PM before the band starts playing. There is no additional charge for these classes which are taught by guest instructors from various dance schools. The band plays from 8:00 to midnight, usually broken up into four sets. Recorded music is played during the three intermissions, so people can still dance while the band is on break. Sometimes an intermission will feature dance performances by guest artists.
<!related entries>
Band: Ron Sunshine
Singer, songwriter, harmonica handler Ron Sunshine (Born in Denver, living in NYC for 22 years, now relocated to Eastern PA) has been performing all around the world with his band Full Swing since 1990, releasing five CDs along the way. The current lineup includes saxophonist Craig Dreyer, drummer Jason Pharr, bassist Tom Pietrycha, pianist Matt Ray, trumpeter Kenny Rampton, and guitarist Al Street, often joined by ace vocalists Queen Esther, Sarah Tolar, Aria Hendricks, and others.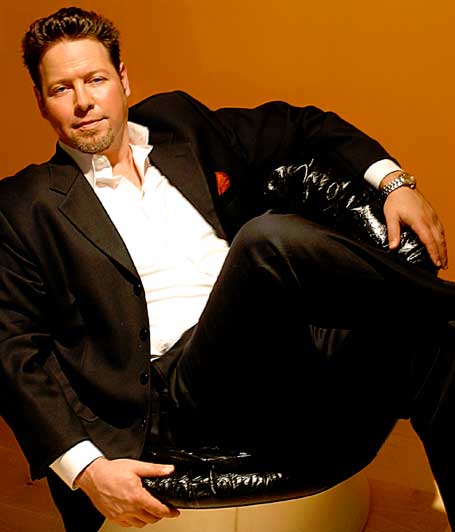 Sunshine can also be heard performing in clubs with his jazz organ quartet, as well as crooning at the fabled Rainbow Room with his new 10-piece big band--and everything in between. The mixture of music has been perfect for hundreds of private and corporate parties, as well as festivals, concerts and casinos.
With his soulful mixture of catchy original songs, jazz standards and blues/R&B classics, the Ron and the band continue to win new followers on their travels, featured along the way on CNN, BET, NBC, Fox, BBC, and other international television, as well as numerous nationally released compilation CDs, books, films and radio. They have dazzled audiences from New York to Los Angeles, from Paris to Stockholm, from Bermuda to Red Bank.
"Deluxe" (2003) Ron Sunshine (Golden Bug Records) with nine new jazz, blues and soul originals, and three covers. Featuring guest trombonist Wycliffe Gordon, pianist Rick Germanson, and new arrangements by Tim Ouimette.
"Candy" (2001) Ron Sunshine (Golden Bug Records) jazz standards, big band. John Allred on trombone, Danny Wilensky on alto sax and flute are special guests.
"Soul Drug" (1998 ) Ron Sunshine (Golden Bug Records) funk, soul/jazz
"Straight Up" (1998 ) Ron Sunshine & Full Swing (Daddy-O/BMG) swing, jump, jazz, re-released in 2000 on Golden Bug records. Special guest vocalist: Madeleine Peyroux.
"Sumpin Jumpin" (1994) Cassette only. Ron Sunshine & Full Swing (Golden Bug Records) swing, jump
"Pick it Up" (1994) Ron Sunshine & the Smoking Section, featuring Dr. John and the P-Funk Horns (Golden Bug Records) funk, R&B, blues, rereleased in France in 1996 on XIII Bis Records
Ron Sunshine
Phone: 212-714-4510
Web: http://ronsunshine.com/

Venue: St Cyril & St Methodius Croatian Church
St Cyril & St Methodius Croatian Church
502 West 41st Street just west of 10th Avenue
New York City, NY
Organizer: New York Swing Dance Society (NYSDS)

Website: http://www.nysds.org/
Information: 212-NY-NYSDS

Email List:


<! end of related entries>