Saturday, Mar 14, 2015 • Big Bad Voodoo Daddy and the 3rd Annual Paramount Swing Dance Contest •
Frank did it again! BBVB event is on.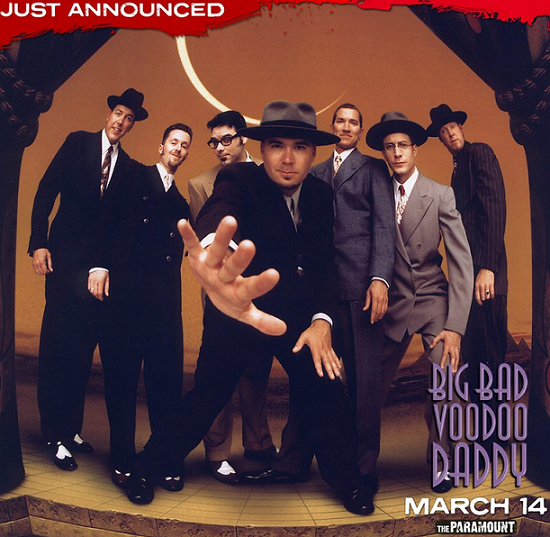 Just finalized! Special discount pricing. Buy One ticket, Get One Free! This applies to the General Admission Floor section (no seats in this section).
The code/password to use on the Ticketmaster.com site will be "SDLI". The offer is valid online and at the box office. Regular general admission tickets are $29.50 each.
Click here to buy online:
http://www.ticketmaster.com/venueartist/1280/798111&brand=paramountny
See you there!
Paramount
370 New York Ave, Huntington, NY
___________________________________________________________________
Paramount officially publicized the show. From their site:
JUST ANNOUNCED: Get ready to have a swinging time with Big Bad Voodoo Daddy on Saturday, March 14th!
Public On-Sale: 1/30 at 10am via Ticketmaster.com or The Paramount Box Office (370 New York Avenue, Huntington, NY)
Once again, Big Bad Voodoo Daddy will play the Huntington Paramount Theatre and we (with SDLI's support) will host the 3rd Annual Paramount Swing Dance Contest. DJ, lesson, dance contest, social dancing then showtime with BBVD. Dress vintage, look cool and maybe you will see yourself in Newsday!
Unfamiliar with BBVD? Check out the links at the bottom to their hit songs and movie appearances. Mark your calendars, reserve the date and get your tickets which will be available soon.
I will have more details including ticket discount information.
This is a great venue and the floor will be open for social dancing before the show.
Now is the time to start attending our other events, taking the lessons, practicing and meeting our other members. All this will help you either compete in the contest or just have a great time social dancing in this great venue. Either way it is a very fun time. More to come!
1) Swingers! movie link with Jon Favereau and Vince Vaughn. Good example to steal some east coast swing moves. Baby, you're Money! Go Daddy-O!
http://youtu.be/E24Ecdff_To
2) Mr. Pinstripe Suit - https://www.youtube.com/watch?v=aBxfAs_skMA&index=3&list=PL0B188D946FA5E845
3) You, me and the bottle makes 3 - https://www.youtube.com/watch?v=2Fmo_AT4Rvw&index=6&list=PL0B188D946FA5E845
<!related entries>
Band: Big Bad Voodoo Daddy
Drums pound, feet tap, fingers snap. A sultry voice begins to croon, and suddenly the horns make their entrance. Man, these cats have got rhythm, and now the vintage-clad crowd is boogying with unharnessed glee. Welcome to the swing scene, where the music, dance, and style of the 1940's have been revived with a passion. Welcome to Big Bad Voodoo Daddy!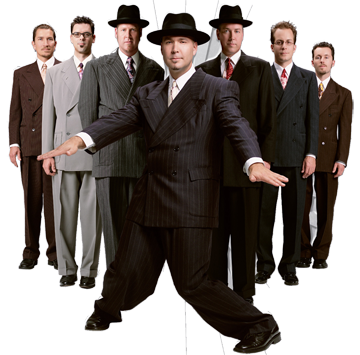 Big Bad Voodoo Daddy had led the international revival of the jump of the Big Band era, with a sound that is not just big and bad, but huge and awesome! In the rich traditions of musical masters Benny Goodman, Duke Ellington and Glenn Miller, Big Bad Voodoo Daddy has jumped into the spotlight of the swing dance craze with a brassy, updated and upbeat style of jazz.

Their credits include performing as the halftime entertainment at the Super Bowl, Orange Bowl, The White House, Billboard Music Awards and the Macy's Thanksgiving Parade. The group's videos are routinely featured on MTV and VH1. The band's biggest break came when they were cast to be the musical focal point of the movie "Swingers". With a truly contagious sound, rhythm and lyrics that bring passion back into music, Big Band Voodoo Daddy will feed your soul.

Band Website: bbvd.com


<! end of related entries>