Friday, Jun 20, 2008 • SWINGTIME Big Band - Tribute to Count Basie • Not a SDLI Event
On Friday night, June 20 (8:15pm), Swingtime Big Band will make their debut at the historic Sousa Band Shell in Port Washington's Sunset Park, right on the bay, just next to the town dock. This is a free concert, and there is plenty of room for a picnic supper, so please come early and enjoy the view as well as the music.
The program that night is called Back to Basie, featuring classics from the immortal Count Basie's six-decade career, alternating with timeless hits from some of the other legendary leaders of the Big Band era, including Benny Goodman, Duke Ellington, Harry James, Glenn Miller and Artie Shaw, plus a special tribute to Frank Sinatra!
Directions To The Sousa Band Shell
Port Washington, NY is located on the North Shore of Long Island and is approximately 20 miles east of Manhattan. Take The long Island Expressway to exit 36 which is Searingtown Road. Make a left onto Searington Road (you will be going north after the left turn onto Searingtown Road). Proceed North on Searingtown road and cross over Route 25A which is also called Northern Boulevard. When you cross over northern Boulevard Searintown Road becomes Route 101 which is also called Port Washington Boulevard. Continue North on route 101 approximaltey 4 miles to Main street. The Port Washington Post office is at the intersection of Main street and Port Washington Boulevard. Make a left onto Main street and proceed approximately 1.8 miles. The Band Shell is on the right side of the road , just after a small athletic field, and just before the town dock. The Town Dock is approximately 50 feet away from the entrance to the Band Shell.You can park at the dock
<!related entries>
Band: Swingtime Big Band
Swing Time Big Band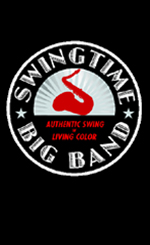 Dedicated to the performance of America's greatest popular standards, SWINGTIME BIG BAND is a 20-piece authentic swing band comprised of master interpreters of music from the Swing Era (mid-1930's through early 1950's). The ensemble specializes in performing original arrangements of Big Band classics from the Great American Songbook, bringing to life both the style and the spirit of this music for 21st century audiences to experience in living color.
SWINGTIME thrills concert audiences and Ballroom dancers alike with authentic recreations of the timeless swing music of such great Big Band leaders as Count Basie, Artie Shaw, Glenn Miller, Benny Goodman, Tommy Dorsey, Duke Ellington, Harry James, Woody Herman, Les Brown, Charlie Barnet and Stan Kenton, among many others.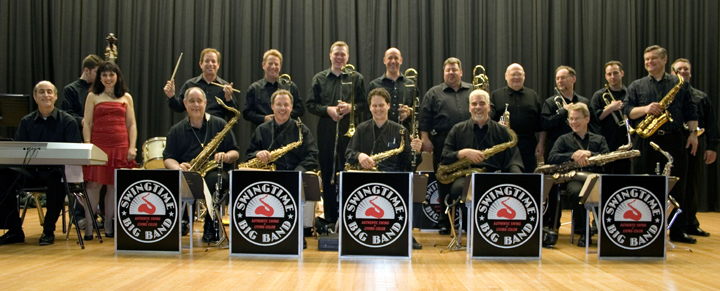 With the recent renaissance in popularity of both swing music and ballroom dancing, this versatile ensemble has been enjoying remarkable success playing both the swing music that is its calling card, as well as a wide variety of tunes to accommodate the many varied styles requested by ballroom dancersThe Lindy, Fox Trot, Peabody, Cha-Cha, Tango, Merengue, Rhumba and Mambo, among others. Highlights of the many prestigious venues at which SWINGTIME members have performed include: Lincoln Center's Midsummer Night Swing, Carnegie Hall, Radio City Music Hall, the Plaza Hotel, the Waldorf Astoria, Tavern on the Green and the Rainbow Room.
Steven Shaiman, Artistic Director
Phone: 516-876-8324
Email:
Website: http://swingtimeny.com
Organizer: This is not a Swing Dance Long Island Event (Not a SDLI Event)
The listed event is NOT sponsored by Swing Dance Long Island, Inc. This event was thought to be of interest to our SDLI's members. Before traveling, always verify the event information directly with the organizer's website, since things change and events do get canceled.

<! end of related entries>