Sunday, May 23, 2010 • Swing Time Big Band at Friedberg JCC (Oceanside) • Not a SDLI Event
The Swing Time Big Band commemorates Memorial Day a bit early with a performance on Sunday afternoon, May 23 in Oceanside, NY. This event is co-sponsored by the JCC and the Oceanside Jewish War Veterans Post 717
WHERE:
Friedberg JCC
15 Neil Court
Oceanside, NY 11572
Phone: 516-766-4341
Fax: 516-766-0513
There is a bountiful brunch starting at noon, followed by our two-hour concert from 1-3pm and there is a dance floor right in font of the stage for you to cut a rug!
DETAILS:
The program features a preview of our summer show, Themes Like Old Times, featuring the theme songs of the great Swing Era bands, plus that Sunday happens to be Artie Shaw's 100th birthday, so you can be sure we will have some great tunes from the Shaw library as well. Plus our two outstanding vocalists will be there to sing classics from the Great American Songbook, so there is something for everyone who loves classic American music!

COST & RESERVATIONS:
Advanced reservations are required, and space is limited, so please call this week to make sure you don't get shut out. Please call 516-634-4151 or 516 766-4341 and don't forget to mention that you saw SWINGTIME's e-newsletter, which will entitle you to the JCC member's discount of $35 instead of $45. Admission covers the cost of the brunch and the concert. [For more details and directions, click on this link: ]
<!related entries>
Band: Swingtime Big Band
Swing Time Big Band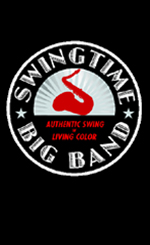 Dedicated to the performance of America's greatest popular standards, SWINGTIME BIG BAND is a 20-piece authentic swing band comprised of master interpreters of music from the Swing Era (mid-1930's through early 1950's). The ensemble specializes in performing original arrangements of Big Band classics from the Great American Songbook, bringing to life both the style and the spirit of this music for 21st century audiences to experience in living color.
SWINGTIME thrills concert audiences and Ballroom dancers alike with authentic recreations of the timeless swing music of such great Big Band leaders as Count Basie, Artie Shaw, Glenn Miller, Benny Goodman, Tommy Dorsey, Duke Ellington, Harry James, Woody Herman, Les Brown, Charlie Barnet and Stan Kenton, among many others.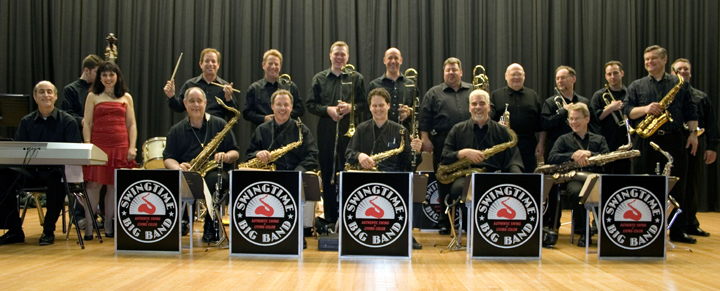 With the recent renaissance in popularity of both swing music and ballroom dancing, this versatile ensemble has been enjoying remarkable success playing both the swing music that is its calling card, as well as a wide variety of tunes to accommodate the many varied styles requested by ballroom dancersThe Lindy, Fox Trot, Peabody, Cha-Cha, Tango, Merengue, Rhumba and Mambo, among others. Highlights of the many prestigious venues at which SWINGTIME members have performed include: Lincoln Center's Midsummer Night Swing, Carnegie Hall, Radio City Music Hall, the Plaza Hotel, the Waldorf Astoria, Tavern on the Green and the Rainbow Room.
Steven Shaiman, Artistic Director
Phone: 516-876-8324
Email:
Website: http://swingtimeny.com
Organizer: This is not a Swing Dance Long Island Event (Not a SDLI Event)
The listed event is NOT sponsored by Swing Dance Long Island, Inc. This event was thought to be of interest to our SDLI's members. Before traveling, always verify the event information directly with the organizer's website, since things change and events do get canceled.

<! end of related entries>