Friday, Jul 8, 2011 • Most Dangerous Big Band plays for the Islip Arts Council • IslipArtsCouncil
NY Most Dangerous Big Band Town of Islip 2011 Free Summer Concert Series at Bay Shore Marina Friday 7:30 PM From Gershwin to Sinatra, from Nat King Cole to Santana, to Norah Jones and beyond – from "Georgia on My Mind" to "New York State of Mind" – New York's Most Dangerous Big Band brings that traditional Big Band sound to over 200 tunes in their formidable repertoire. The NYMDBB are as capable a group as you are likely to find in any aggregation. Each member brings a distinct flavor to the mix, creating the smooth powerhouse performances that this band is renowned for, to audiences all over Long Island. Concert location: at the end of South Clinton Ave. south of Montauk Hwy., (by the YMCA) in Bay Shore. Rain location: concert will move to The Theatre at Town Hall West, 401 Main Street. Islip
The complete calendar of events can be found at: http://www.islipartscouncil.org/free_concerts.html
<!related entries>
Band: Edward deCorsia and New York's Most Dangerous Big Band
Born of the love of Big Band jazz, producer and trombone player, Edward deCorsia, began searching for an ensemble of local musicians who would be as at home playing "In the Mood" as they would Latin Rocking a pop tune by Santana. He set out to find and network with all of the best reading musicians he could collect for this musical undertaking. During the search, he called upon musicians and friends who had played together as far back as 1974 for a road band that performed at Expo (The World's Fair) in Montreal, Canada. Some of the original players were as young as 16, some were in their seventies!
Venue: Islip Arts Council
Town of Islip-- Summer 2011 Concert Series
Presented by the Islip Arts Council in conjunction with the Town of Islip check listing for times and location
ISLIP ARTS COUNCIL FREE CONCERTS—Summer 2011—Bayard Cutting Arboretum – Sundays 2 PM
Sponsored by the Islip Arts Council with support from Natural Heritage Trust, NYS Office of Parks, Recreation and Historic Preservation, & NYSCA
$8.00 parking fee
BROWN BAG LUNCH CONCERTS—Summer 2011—King Park, Main St., Bay Shore --Tuesdays 12:30 PM
Co-Sponsored by Bay Shore BID and Islip Arts Council
SAYVILLE COMMON GROUND SERIES—Summer 2011—Rotary Park, Gillette Ave., Sayville
Co-Sponsored by Islip Arts Council and the Town of Islip check listing for times

Organizer: Islip Arts Council (IslipArtsCouncil)
The Islip Arts Council provides diverse audiences with activities which encompass both Presentation and Service to the Arts field. Its presentations cover a variety of disciplines ranging from fine classical music to Master Classes with renowned musicians, for little or no cost.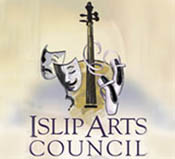 This summer they have an expansive calendar of events, including: Free Concerts, Especially for Children, Music, Theater, Dance, Exhibits, Film, Workshops, Lectures and Classes. Not to be missed is New York Philharmonic Free Concert at Heckscher State Park.
The free concerts include some great bands for swing dancing. Check their complete calendar.
Islip Arts Council
50 Irish Lane
East Islip, NY 11730
Website: http://www.islipartscouncil.org
Telephone: 631-224-5420
Fax: 631-224-5440
Email:
Pricing: Free
<! end of related entries>