Thursday, Jul 17, 2008 • Isotope Stompers Dixieland Jazz Band at Heckscher Park • Huntington Arts
Isotope Stompers on Thursday, July 17th
The Huntington Arts Council is proud to celebrate the 43rd Summer Arts Festival. This tradition has flourished from year to year and each season has surpassed the last in the quality and variety of the programs. From Broadway shows to local musicians, each concert attracts a wide and appreciative audience. Summer in Huntington would not be complete without the Arts Festival. The festival runs June 20th to August 17. Check out the Huntington Arts Council website for further information. http://www.huntingtonarts.org/
FESTIVAL INFORMATION
Chapin Rainbow Stage, Huntington Village (Heckscher Park), Long Island's Premier Public Stage…Universal Talent, Ageless Audience.
All performances are FREE to the public!
LOCATION
The Chapin Rainbow stage is located in Heckscher Park, Huntington, New York at Prime Avenue and Route 25A (Main Street) with shows every evening, except Mondays from June 20 through August 17.
HUNTINGTON SUMMER ARTS FESTIVAL HOTLINE: 631-271-8423 x 5
TIMES
All shows begin at 8:30pm, with the following exception: on every Tuesday, designated as the Family Series, shows begin at 7:30pm.
SEATING POLICY:
Wednesday – Sunday at 8:30pm.
Take FOLDING CHAIRS, BLANKETS or CUSHIONS for seating comfort. Folding/sand chairs are not permitted in the blanket area (indicated by lawn signs).
Festival grounds are wheelchair accessible and accessible to persons who are physically challenged. Efforts will be made to accommodate persons with special needs.
Wherever the performance is located we offer a few friendly reminders to enhance the enjoyment of the show for you and your neighbors in he audience.
1. Make sure to check the weather forecast and dress appropriately. ALL performances are held in Heckscher Park despite the whims of the weather, so take your umbrella!
2. Please turn off all cell phones and beepers before the show starts.
3. Remember, be courteous to those around you; please, no smoking.
4. Please be considerate of others during the performance.
5. Remember, no pets are allowed.
6. Keep an eye on your children and keep them close to you.
7. No flash photography or video is permitted.
8. Use the receptacles provided for your trash.
9. Feel free to bring a friend or two, or three.
10. Bring blanket and chairs.
11. Thanks, and enjoy the concerts!
Important: Please Note
Alcohol and pets are not permitted anywhere on Park grounds. Flash photography and recording of any kind are strictly prohibited. Please limit smoking to along the fences.
<!related entries>
Band: Isotope Stompers Dixieland Jazz Band
The Isotope Stompers are an exhilarating seven-piece Dixieland Jazz Band whose roots are in the Northeastern United States. This music, however, comes from way down South in New Orleans where this foot-stomping music called "jazz" grew out of spirituals and marches of the Bourbon Street area. You will recognize some of the band's popular Dixieland tunes like the rousing Tiger Rag, In the Mood, Figgity Feet, Kid's Ory's famous Muskrat Ramble, A train, the sad and moving St. James Infirmary Blues or The Tin Roof Blues.
The emphasis is on what is known as "revival jazz", the traditional New Orleans-style music spiced up with greater drive and tempo for dancing.
They will have you clapping your hands and tapping your toes…for THE ISOTOPE STOMPERS celebrate Mardi Gras, New Orleans style, all year long!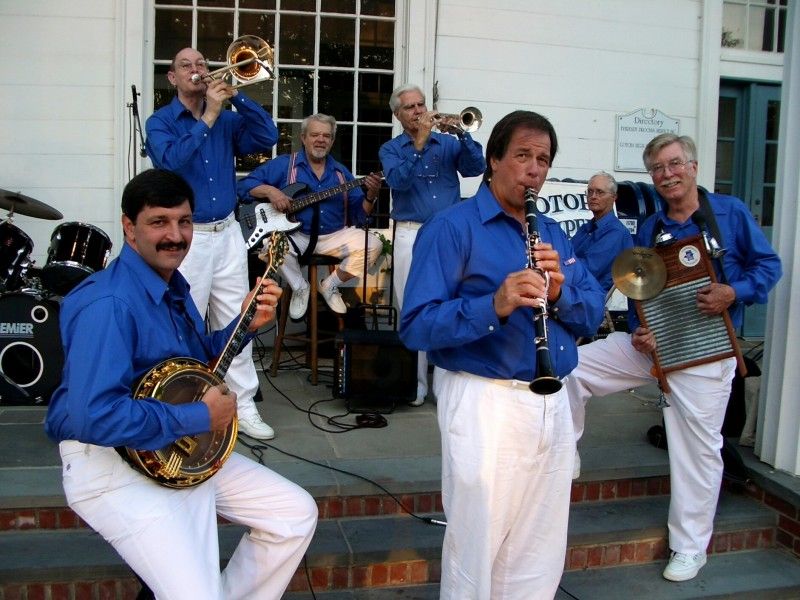 Venue: Heckscher Park Huntington Village
The Chapin Rainbow Stage is located in Heckscher Park, Huntington Village, NY
2 Prime Avenue
Huntington, NY 11743
Cross Street: Route 25A (Main Street)
Organizer: Huntington Arts Council, Inc. (Huntington Arts)
2008 Summer Arts Festival

06/20/2008 Fri. Groove Collective
06/21/2008 Sat. Bob Westcott-OPENER
06/21/2008 Sat. Tom Paxton w/OPENER
06/22/2008 Sun. Marie Knight
06/24/2008 Tues. Robbi K
06/25/2008 Wed. Dance Theater Co. & The Red Hot Mamas
06/26/2008 Thurs. Huntington Men's Chorus
06/27/2008 Fri. Terry Winchell - OPENER
06/27/2008 Fri. Buddy Merriam & Back Roads w/OPENER
06/28/2008 Sat. Barking Men-OPENER
06/28/2008 Sat. Dirty Boogaloo w/OPENER
06/29/2008 Sun. Senior Pops
07/01/2008 Tues. Plaza Theatrical Productions
07/02/2008 Wed. Huntington Community Band
07/03/2008 Thurs. Paul Zunno - CO-BILL w/Return
07/03/2008 Thurs. Return to the Dream
07/04/2008 Fri. Vito Picone & The Elegants
07/05/2008 Sat. The Dana Leong Band
07/06/2008 Sun. Janis Ian
07/08/2008 Tues. Patricia Shih
07/09/2008 Wed. Huntington Community Band
07/10/2008 Thurs. Yana Reznik
07/11/2008 Fri. Circle of Dance
07/12/2008 Sat. Plaza Theatrical Productions
07/13/2008 Sun. Tiempo Libre
07/15/2008 Tues. Galumpha
07/16/2008 Wed. Huntington Community Band
07/17/2008 Thurs. Isotope Stompers
07/18/2008 Fri. Sol y Sambra Spanish Dance Company
07/19/2008 Sat. Aztec Two-Step with Pete Fornatale
07/20/2008 Sun. The Matthew Pierce Ensemble
07/22/2008 Tues. Shira Kline
07/23/2008 Wed. Huntington Community Band
07/24/2008 Thurs. Township Theatre Group
07/25/2008 Fri. Symphony Space
07/26/2008 Sat. Aquila Theater
07/27/2008 Sun. Island Hills Chorus
07/29/2008 Tues. BAM: The Blue Barrel Show
07/30/2008 Wed. Huntington Community Band
07/31/2008 Thurs. Valencia Vas
08/01/2008 Fri. Dance Theater of Harlem Ensemble
08/02/2008 Sat. Gathering Time - OPENER
08/02/2008 Sat. Christine Lavin w/Opener
08/03/2008 Sun. Broadhollow Players
08/05/2008 Tues. Janice Buckner
08/06/2008 Wed. Nassau Pops
08/07/2008 Thurs. Alloy Orchestra, "Phantom of the Opera"
08/08/2008 Fri. Christian McBride
08/09/2008 Sat. Amy Allison-OPENER
08/09/2008 Sat. Mose Allison w/OPENER
08/10/2008 Sun. LIDC
08/12/2008 Tues. Broadhollow Theatre Company
08/13/2008 Wed. Twin Shores Chorus
08/14/2008 Thurs. Wondrous Stories
08/15/2008 Fri. Jimmy Webb
08/16/2008 Sat. Long Island Philharmonic
08/17/2008 Sun. The Campbell Brothers

Huntington Arts Council, Inc.
213 Main Street
Huntington, NY 11743

Website: http://www.huntingtonarts.org/
Phone: 631.271.8423
Fax: 631.271.8428
Email:

<! end of related entries>