Sunday, Sep 21, 2008 • Swingtime Big Band - Sayville Common Ground – Gillette Park • IslipArtsCouncil
Sunday, July 21 at 3 pm: Swingtime Big Band - Sayville Common Ground – Gillette Park
This Long Island-based 20-piece Big Band specializes in original and authentic arrangements of Swing-Era music from the 1930s until the early 1950s. The members of Swingtime are veterans of regional Big Bands and orchestras, including Ira Alexander's Swingtimers, the Tommy Dorsey Big Band, the Stardusters and Artie Shaw's Big Band. Swingtime boasts two fine vocalists: Bobbie Ruth, who recreates the classic "gal vocal" style and Jerry Costanzo, who evokes the crooners of the age. Swingtime will be coming back for us in Sayville because we just can't get enough of real Swing music!
Note the revised date and time of our next free parks concert, which is now SUNDAY, Sept. 21 at 3:00pm at The Common Ground in Sayville's Rotary Park.
<!related entries>
Band: Swingtime Big Band
Swing Time Big Band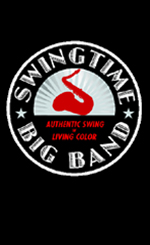 Dedicated to the performance of America's greatest popular standards, SWINGTIME BIG BAND is a 20-piece authentic swing band comprised of master interpreters of music from the Swing Era (mid-1930's through early 1950's). The ensemble specializes in performing original arrangements of Big Band classics from the Great American Songbook, bringing to life both the style and the spirit of this music for 21st century audiences to experience in living color.
SWINGTIME thrills concert audiences and Ballroom dancers alike with authentic recreations of the timeless swing music of such great Big Band leaders as Count Basie, Artie Shaw, Glenn Miller, Benny Goodman, Tommy Dorsey, Duke Ellington, Harry James, Woody Herman, Les Brown, Charlie Barnet and Stan Kenton, among many others.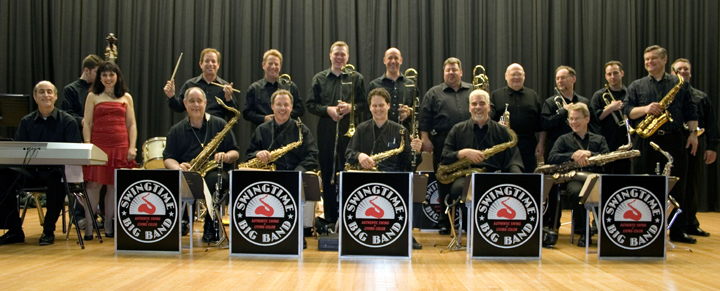 With the recent renaissance in popularity of both swing music and ballroom dancing, this versatile ensemble has been enjoying remarkable success playing both the swing music that is its calling card, as well as a wide variety of tunes to accommodate the many varied styles requested by ballroom dancersThe Lindy, Fox Trot, Peabody, Cha-Cha, Tango, Merengue, Rhumba and Mambo, among others. Highlights of the many prestigious venues at which SWINGTIME members have performed include: Lincoln Center's Midsummer Night Swing, Carnegie Hall, Radio City Music Hall, the Plaza Hotel, the Waldorf Astoria, Tavern on the Green and the Rainbow Room.
Steven Shaiman, Artistic Director
Phone: 516-876-8324
Email:
Website: http://swingtimeny.com
Venue: Sayville Common Ground
The Common Ground at the Town of Islip's Rotary Park
Located between Gillette Avenue and Candee Avenue in Sayville, NY
DIRECTIONS FROM LIE ROUTE 495 HEADING EAST OR WEST ....
Take EXIT 59 to CR-93 South / OCEAN AVENUE. Continue to follow CR-93 S. Drive 4.1 miles. CR-93 S becomes LAKELAND AVENUE. Drive 1.4 miles Drive over the LIRR railroad tracks. LAKELAND AVENUE becomes RAILROAD AVENUE. Drive 0.3 miles. At the traffic light in downtown Sayville, continue straight (south) RAILROAD AVENUE becomes GILLETTE AVENUE. The Common Ground park will be on your right in less than 0.1 mile.
The Common Ground
P.O. Box 142
Sayville, NY 11782
Website: www.thecommonground.com
Phone: 631-664-4230
Organizer: Islip Arts Council (IslipArtsCouncil)
The Islip Arts Council provides diverse audiences with activities which encompass both Presentation and Service to the Arts field. Its presentations cover a variety of disciplines ranging from fine classical music to Master Classes with renowned musicians, for little or no cost.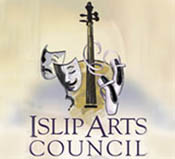 This summer they have an expansive calendar of events, including: Free Concerts, Especially for Children, Music, Theater, Dance, Exhibits, Film, Workshops, Lectures and Classes. Not to be missed is New York Philharmonic Free Concert at Heckscher State Park.

The free concerts include some great bands for swing dancing. Check their complete calendar.

Islip Arts Council
50 Irish Lane
East Islip, NY 11730

Website: http://www.islipartscouncil.org
Telephone: 631-224-5420
Fax: 631-224-5440
Email:

<! end of related entries>