Fleur Seule Band with Allyson Biggs
Fleur Seule – 1940s Jazz, Swing, Ballroom Music from Around the World
Swing Era Music | Hollywood Glamour
Fleur Seule is an authentic 1940s Jazz, Swing, & Ballroom band that plays hits from all around the world. Songbird/Bandleader Allyson Briggs sings in 7 languages.
The band size ranges from 2-12 pieces and can provide the perfect ambiance for an intimate cocktail lounge to filling a dance floor with inspiring swing dancers! Whether an All-American USO style set, or an exotic voyage through Europe, Fleur Seule will take you on a memorable musical journey, as they revive hits made famous by Duke Ellington, Ella Fitzgerald, Edith Piaf, Marlene Dietrich, Dinah Shore, Nat King Cole, Sammy Davis, Jr., Louis Armstrong, The Andrews Sisters, Frank Sinatra, Marilyn Monroe, Dean Martin, and more.
Fleur Seule plays Swing Era hits, Jazz standards, and Ballroom classics that will transport you to the 1940s: The times of big bands and glamorous evenings of live music and dancing in clubs renowned for their entertainment, Hollywood profiles, and musical variety. Led by vocalist Allyson Briggs, this dynamic band of old souls will have you humming along to timeless music. With a repertoire that includes beloved songs of France, Germany, Italy, Brazil, and the United States, and more, there is a song for everyone to enjoy. We cover hits of many artists who contributed to the Big Band sound, along with Fleur Seule's original songs, penned by their Songbird!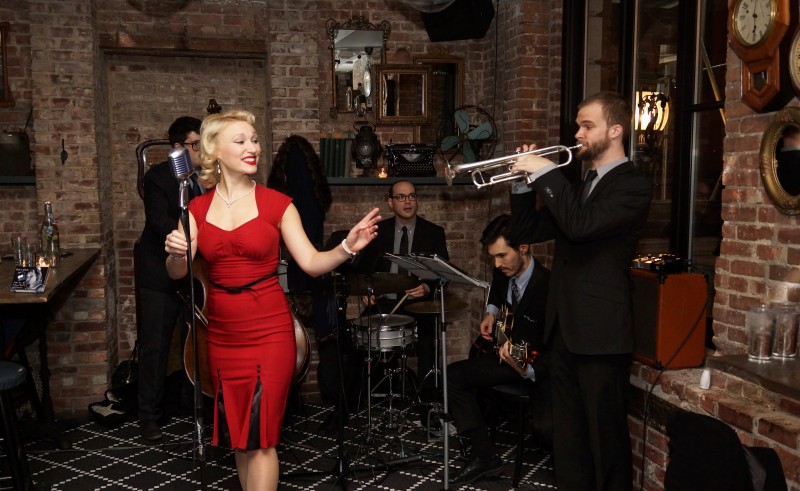 Upcoming / Recent Appearances
01/04/2020 -- Fleur Seule Band - SDLI Black Tie Dance - CHANGE OF VENUE
01/05/2019 -- Fleur Seule Band
07/01/2017 -- Fleur Seule Band with Allyson Biggs